Patient Education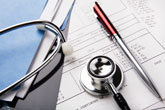 At ProvidaCare, we think that education is extremely important. The more you know about your condition, the better you can manage it; and more importantly, the faster you can get back on the road to good health. We encourage you to read the articles below and share these links with friends or family members that you think could also be affected.
---
OSA
Recognizing and Treating Sleep Apnea
Do you know the signs of Obstructive Sleep Apnea (OSA)? Read more.
Sleep Apnea Home Tips
What you can do to improve your condition… Read more.
Sleep Apnea Links to Other Diseases
Obstructive sleep apnea increases the risk of developing other conditions such as hypertension, heart disease including heart attacks and heart failure, stroke, and diabetes.
Read more.
9 Reasons to Get More Sleep
What could one extra hours of sleep do for you? Read more.
Other helpful sites:
COPD
What is COPD (Chronic Obstructive Pulmonary Disease)?
What is it, what causes it and what you can do about it… Read more.
COPD Treatment Overview
Although COPD cannot be cured, it can be managed to improve your overall health. Read more.